Y6 School Journey- Flatford Mill 2021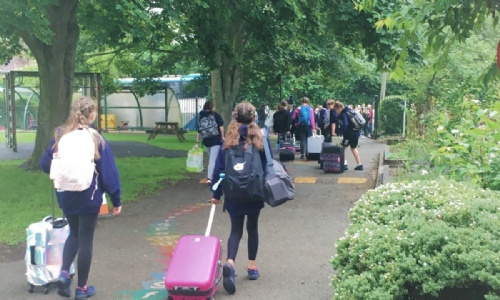 Our very excited year 6's embarked on their three-day residential trip to Flatford Mill.
The children wore their new 2021 leavers jumpers as they embarked on their three-day residential to Flatford Mill. We hope the children have a wonderful time. Photos of the trip can be viewed on Twitter or on the school website gallery by visiting this link:
Monday 28th June
After arrival the children participated in team challenges together. And later, they enjoyed a sensory walk around a course whilst blindfolded! In the evening they explored the area whilst on a night walk. They were able to set mammal traps whilst out on their walk. And plan to go back in the morning to see what they have captured.
Tuesday 29th June
This morning year 6 were very excited to take part in a treasure hunt around Flatford Mill learning about the life of John Constable. The children had to find props and then had to put on a comedy skit within their groups. Much fun and laughter was had by all! This afternoon the children are hiking to East Bergholt, they will be learning about life 250 years ago and making comparisons with today's world. The evening was finished off with a singsong around the camp fire.