District Sports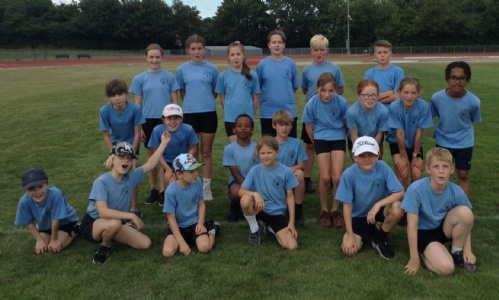 District Sports - Track & Field events
Children from KS2 represented our school on the 19th & 26th June at the District Sport Events.
The children who took part were an absolute credit to our school. The team spirit was second to none. The children cheered each other on and supported everyone brilliantly.
We won some sprint events and placed in second and third position in the team relays and some sprint races too! Well done to the whole team.
Team members were:
Sprints:
Year 3 Boys – Jake and George M
Year 3 Girls – Elsie and Beatrice
Year 4 Boys – Reece and Rupert
Year 4 Girls – Sadie and Phoebe
Year 5 Boys – Moses and Jack
Year 5 Girls – Abigail and Isabella
Year 6 Boys – Stirling and Harry K
Year 6 Girls – Jasmin and Chloe
Yr 6 Long Distance (600m)
Maddie and Louis
Yr 6 Relay (4x100m)
Stirling, Louis, Harry K, Frankie H
Abigail, Chloe, Harriet W, Jasmin
Throwing
Daisy and Frankie
High Jump
Harry and Jasmin
Long Jump
Stirling and Harriet