Wrap Around Care
We are delighted to announce that after school wrap around care started on 1st February. The YMCA will run the after school wrap around from 3:15 to 6:00pm. The cost of the club is £13.00 per session and includes a snack as well as a light tea. For families that book 5 days a week, a 10% discount will apply.
To book a place please call the YMCA directly 01245 355677.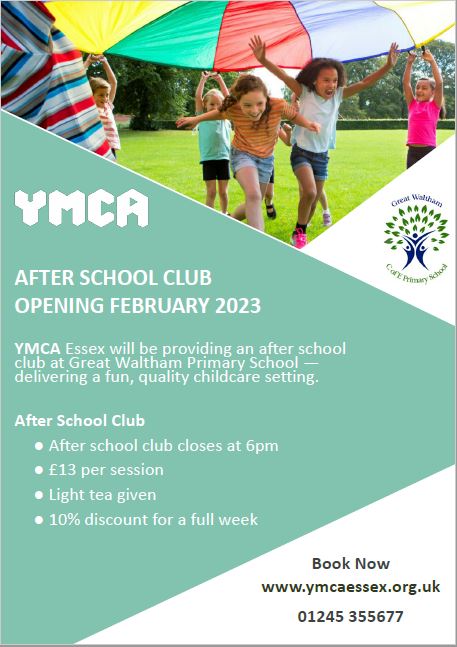 ---
---
---
---
---
---
The Breakfast Club at Great Waltham Primary School is run by the school and has been set up at the request of parents. The club is becoming more popular with the amazing breakfast on offer along with the activities, children are now choosing to attend!
Breakfast club is available Monday - Friday from 7.30am - 8.35am (breakfast served until 8.15am). At breakfast club, the children are offered a variety of breakfast items to include branded cereals, yoghurts, fresh fruit, toast & a selection of spreads & jams. There is a variety of activities for the children to participate in including games, arts & crafts, lego and more! For those that wish to relax, we have a comfy chill out zone.
For children that attend breakfast club on a regular basis, we ask parents to complete a contract agreement. This books your child's space on the days requested and secures a lower cost - £5.60 per session. To sign your child up to attend regularly, please complete the below contract agreement and return it to the school office. Payments for breakfast club regular attendees can be made via your Parent Mail app – Accounts – Great Waltham Breakfast Club. This will be charged monthly.
We are also able to accept ad-hoc bookings either in advance or, in urgent cases, on the day. The ad-hoc rate is £6.50 per session. To make a booking, please e-mail the school office stating the date required and then complete a payment via Parent Mail before the session is taken. Payments for ad-hoc bookings can be made via your ParentMail app - Payments - Shop - Breakfast Club Ad Hoc Rate.
Both of my children love Breakfast club. It seems to have a great mix of crafts, relaxation and exercise. Even on a day where I have not needed the club, but already have a booking, the boys choose to go in. Please thank both members of staff and anyone else who may be involved.
I would like to extend my thanks as my daughter couldn't be happier going every week. Please pass on our appreciation to the adults who run it.